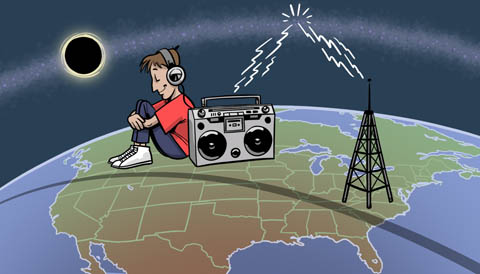 With today's (Monday August 21st) northern hemisphere total eclipse of the sun happening some radio stations will consider playing the Bonnie Tyler classic Total Eclipse Of The Heart. Remember don't look directly at the sun as it will blind you.
Other more serious radio people will be experimenting how an eclipse (where nighttime happens during the day) will affect the radio bands.
In 1999 there was a total eclipse that touched Cornwall in the UK. At the time the Radio Communication Research Unit through promotions got 1700 people involved is a massive open experiment getting radio listeners to tune to 639KHz Radio La Coruna.
A paper on the experiments is available from RADIO AND THE 1999 UK TOTAL SOLAR ECLIPSE.
Today's eclipse will cast a shadow around 18:30UTC and has a total eclipse around Oregon, Idaho, Wyoming, Nebraska, northeastern Kansas, Missouri, Southern Illinois, Western Kentucky, Tennessee, Southwestern North Carolina, northeastern Georgia, South Carolina.
If you are not on this path or shadow you might be able to tune in to a radio over the internet using Web based SDR. Try SDR.HU where there are a few northern hemisphere radios. This receive station (64.136.200.36:8073) is in Kansas City which is north east as you can get in Kansas.
If you want to take part in the experiments today see American Radio Relay League invite page and Sky & Telescope invite here.